macOS High Sierra – update 10.13 – ready.
English – scroll down!
Ab jetzt wird macOS 10.13 runterladbar – es hat vor allem das neue File System APFS zu bieten. Unter der Haube gibt es auch einige Änderungen. Bei Audio ist nicht so viel anderes zu erwarten, jedoch mehr Platz auf SSDs und wesentlich schnellere SSD Operationen, wovon auch DAWs und Audio-Sets profitieren werden.
Aber – wie immer muss man schauen, ob man das machen möchte. High Sierra wird nicht alles kaputtreißen, aber das letzte OS sein, was 32 Bit akzeptiert und damit als letzte Marke vor der Autobahn zu sehen sein, bei iOS 11 ist alles mit 32Bit bereits nicht mehr möglich. Außerdem wird das APFS nicht mit Fusion Drives funktionieren oder auf mechanischen Platten, daher werden nur SSD-User davon profitieren, der Rest bleibt einfach beim alten HFS+.
Hier werden alle Informationen noch zu lesen sein, die später oder durch Erfahrungen im Betrieb zu erkennen sind zu Tage kommen.
Stay tuned. Motu Interfaces laufen noch, Ableton und Logic ebenso.
APFS: Eine 2TB SSD hatte gut 5-6GB mehr Platz, also nicht sooo viel an Ersparnis wie bei iOS 11.
Die 512GB SSD spart gute 8GB ein. Eine andere auf einem älteren MBP 10-11GB. Interessant.
Angeschlossene SSDs werden NICHT konvertiert. Die muss man mit dem Disc Utility Tool im Menü in "bearbeiten" – in APFS konvertieren! Das klappt natürlich auch.
Natürlich werden APFS-SSDs von älteren macOS'es nicht erkannt! Wichtig!
*Externe Platten gaben kein GB mehr Platz frei. Besonders lang dauert die Konvertierung übrigens nicht. Einige Sekunden.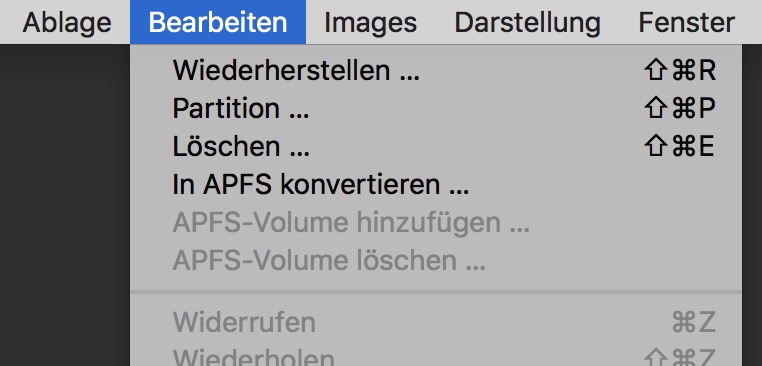 Schlussempfehlung: In Safari unter "Datenschutz" in den Einstellungen die ersten beiden Punkte aktivieren (Tracking verhindern und Tracking ablehnen)
__
I am updating to High Sierra macOS 10.13 right now – I did not hear about real problems – but will report them, so check back here to get more information. I will post them alongside my work with it.
there is one more thing about security.
a 2 TB SSD – gets me 5-6 GB more room, so it's not really much you can save – not as much as on iOS 11. Another SSD (512GB) saved me 8GB, a bit more – on an older MBP it was 10-11GB. All attached SSD were not automatically converted to APFS. Note – APFS-SSDs won't be recognized on any system lower than High Sierra – of course.
I did not notice any free GB after converting external SSDs. It takes just a few seconds. No need to reformat. But maybe my second SSD needs to …
Motu AVB Interfaces, Ableton Live and Logic seem to work normally.
the main thing in this update is the new file system for SSDs: APFS (apple file system) – it will make more capacity available and it will be faster. non-flash memory will NOT work with APFS and stay at HFS+ – including Fusion Drives. it will be the last 32bit capable OS as well.
recommended: switch off tracking in safari settings – it's 2 boxes to tick.