Mini News 3/2017 – Free DX7 / Dexed AU/VST – Piano Things – 20 Behringer Synths…
Eine kleine News-Kette zwischen den größeren Sachen. Little Newsflash in between 3/2017
1) Dexed, ist ein kompletter DX7, der auch als Editor für den DX7 dienen kann als AU erschienen und somit auch in Logic nutzbar, VST gab es vorher schon.
Dexed is a free DX7 (and editor for the DX) and works with AU and VST, since 0.92 – it's not new, but I'd like to repost it to anyone who wants 6-OSC-FM without spending too much on it. it works – I did use it on my synth workshops. and it runs on apples Logic since it doesn't take VST..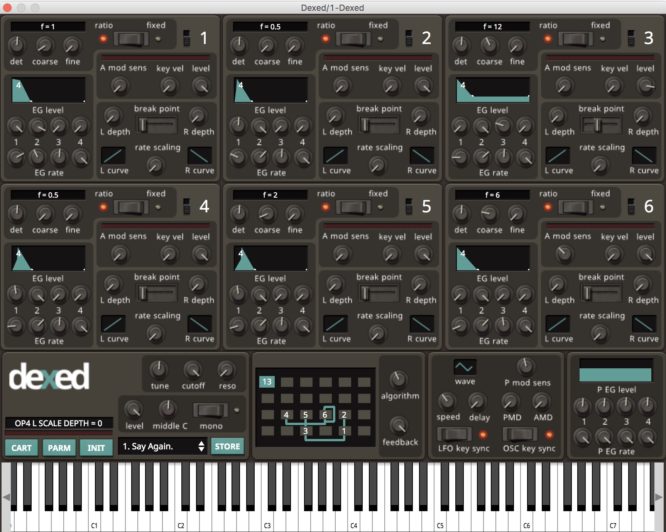 2) Piano: "Rain Play"
you can add this LED panel and a little player to learn music and play – those LEDs show what note is required to play when be "falling down" –
aktuell läuft ein kleines Kickstarter-Programm um auf dem Klavier besser üben zu können und ohne es zu zerlegen. Es zeigt das Timing und Töne durch "fallende Lichtpunkte" über den Tasten an.
3) it's quite know atm – Behringer told some bloggers what he is planning – a big series of synths – not just a Minimoog clone for super affordable price which may conflict with the Minimoog being sold right now. that's all behind it. and yes, it's real – might change the synth scene and might destroy some of them as well since it's not a company, it's a whole city. they got power. but might be nice for a time since it makes things cheaper for a while. it's no less or more to say.. I bought that MX8000 console not the Mackie 8Bus since I could not afford it at that time at half the price. well – that's free awareness now
Aktuell wird über den "Ulimoog" gesprochen, dem durch einige Blogger angekündigten Minimoog-Clone von Behringer. Er wird sicher nicht der zweite und letzte sondern einer von vielen (eher 20 als 5) neuen Synthesizern werden, die wir sehen werden. Diese Firma ist eine Stadt, nicht einfach "eine Firma" – die können das und wer ein BCR2000 hat, weiss, dass sie für 140€ es schaffen LED-Kränze in großer Zahl anzubieten, die kaum ein anderer so liefern kann. Das geht eben auch bei Synthesizern – deshalb wird dies oder das passieren. Ein guter Schachzug, einigen Insidern das zu erzählen, denn man muss faktisch nicht werben oder 12 Videos machen. Die angekündigte Drummachine wird sicher ein Teil eines Großen Sortiments werden, welches durchaus auch ein Problem für andere Firmen werden könnten, inkl Korg, Arturia, DSI etc. Mehr ist da nicht dahinter aber auch nicht weniger. Es gibt keine Fotos. Aber trotzdem schreibe ich es mal auf. Nein, ich habe aktuell nur das BCR2000 und ich denke ein zweites wäre toll. Leider etwas "macfeindlich", das Dingens. Editoren bauen ist nicht wirklich die Stärke von B. Bisher zumindest, die heute aber auch einfach Music Group heißen. Die Website hat sich leider eher verschlechtert, die waren mal einer der besten Anbieter für Manuals, Support, Information etc. Besser konnte man das kaum machen. Hoffentlich kommt das wieder.