Hier kommt eine Emulation des C64 SID Chips mit Sequencer im Tracker-Stil für 13€
Sidtracker64 is a perfect name and description  – what you get:
1) you get a tracker which has exactly what Reaper and Trackers in general look like ..
2) SID Chip Emulation
3) Generation of Files that the C64 can "eat" and work with
on the iPad – 13€.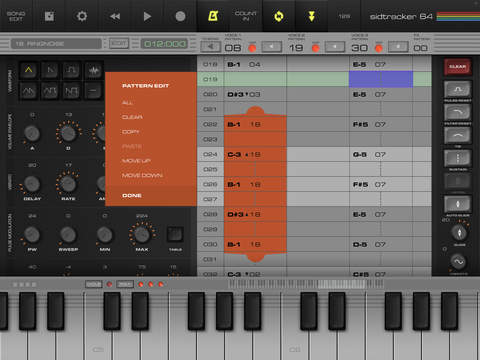 Here's the official feature list:
the synth
· 3 voices (of course) SID 8580 R5 chip.
· 8 waveforms – tri, saw, pulse with pwm, noise, trisaw, tripulse, sawpulse, nowave
· Wavetable editing
· 3 volume envelopes
· Dedicated vibrato controls
· 1 multimode filter LP/BP/HP (12/6/12db) with sweep envelope
· Filter table editing. Change filter cutoff and modes up to 1/240
· Hard sync and ringmod per voice
· PWM sweep envelope / PWM table editing
· Hard restart
· Variable emulation speed from 25-240hz (standard 50)
· 32 instruments per song (copy/paste/rename)
the sequencer itself does
· 3 voice patterns
· Mute voices on/off
· Change instrument per step
· FX pattern – change volume/filter/speed per step
· Loop pattern
· Song mode, Follow, Transpose
· Live or step recording
· Metronome / count in
· Note effects (Glide/sustain/vibrato/filter & pulse reset/tie)
MIDI
· Keyboard input 1-3 voices (mono, duo and polyphonic)
· CC-assignable synth parameteras
· Modulation wheel vibrato
· Pitch bend
· Midi Clock in
· Selectable input channel
Export:
· .s64 – native SidTracker 64 file
· .m4a – audio
· .sid – for use in sidplayer
· .prg – exports play data for a real Commodore 64
SidTracker 64 Tutorial - real time recording
Kung Fury
– did you watch it? if so you do know everything about 80's US films – anything you might want to know and.. it's in here as a remix / – so they felt inspired in Scandinavia.
and since you  need and want to see it – so ask KITT do do so – ready to save the world from ANYTHING evil – and preferably with a C64, not with the newest MacBook Pro.
KUNG FURY Official Movie [HD]