Modular Routing Platform – Windows Rack Performer
Rack Performer – is a modular audio routing system that incorporates any audio signal and plugin routing with sample accuracy.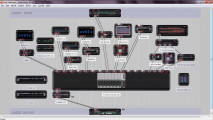 It reminds a bit of the OS X tool Audulus , a bit of Audiobus  in iOs and VSTForx (all platforms). you may built memory and routing for FX, inputs, outputs, mixers and plugins in your machine – so rack performer is a host application that can also incorporate sequencers and other control tools. so it is a bit more like the pulsar/scope environment than a classic modular synth – audio environment may be the best words to describe what it does..
note – this may also be your base for multichannel mixing and processing..
find Feature list in the comments -> here

Rack Performer ist wie eine Art AUDIO PROZESSOR OBERFLÄCHE oder PLATTFORM, die modular angelegt ist, sie erinnert an die oben verlinkten Angebote – am meisten wohl Audulus mit etwas weniger "Synthesizer"Aspekt, hier fällt mir am meisten ein, komplexe Setup zu bauen die ggf mit vielen Kanälen und Lautsprechersystemen arbeiten – zB für 5.1 Surround oder viel viel mehr. Noch näher als Audulus ist wohl VSTForx an diesem Konzept.