Universalmodul Mrseri uO_c Micro Ornament & Crime, tut einiges – sieht man hier im Video. Eurorack
Mrseri uO_c Micro Ornament & Crime
SynMag 71 ist offenbar da, und hier mal in Teilen schon Hinweise auf #72
Schnell mal eben paar Presets dudeln: Details gibts im Heft – jetzt – denn es ist ja da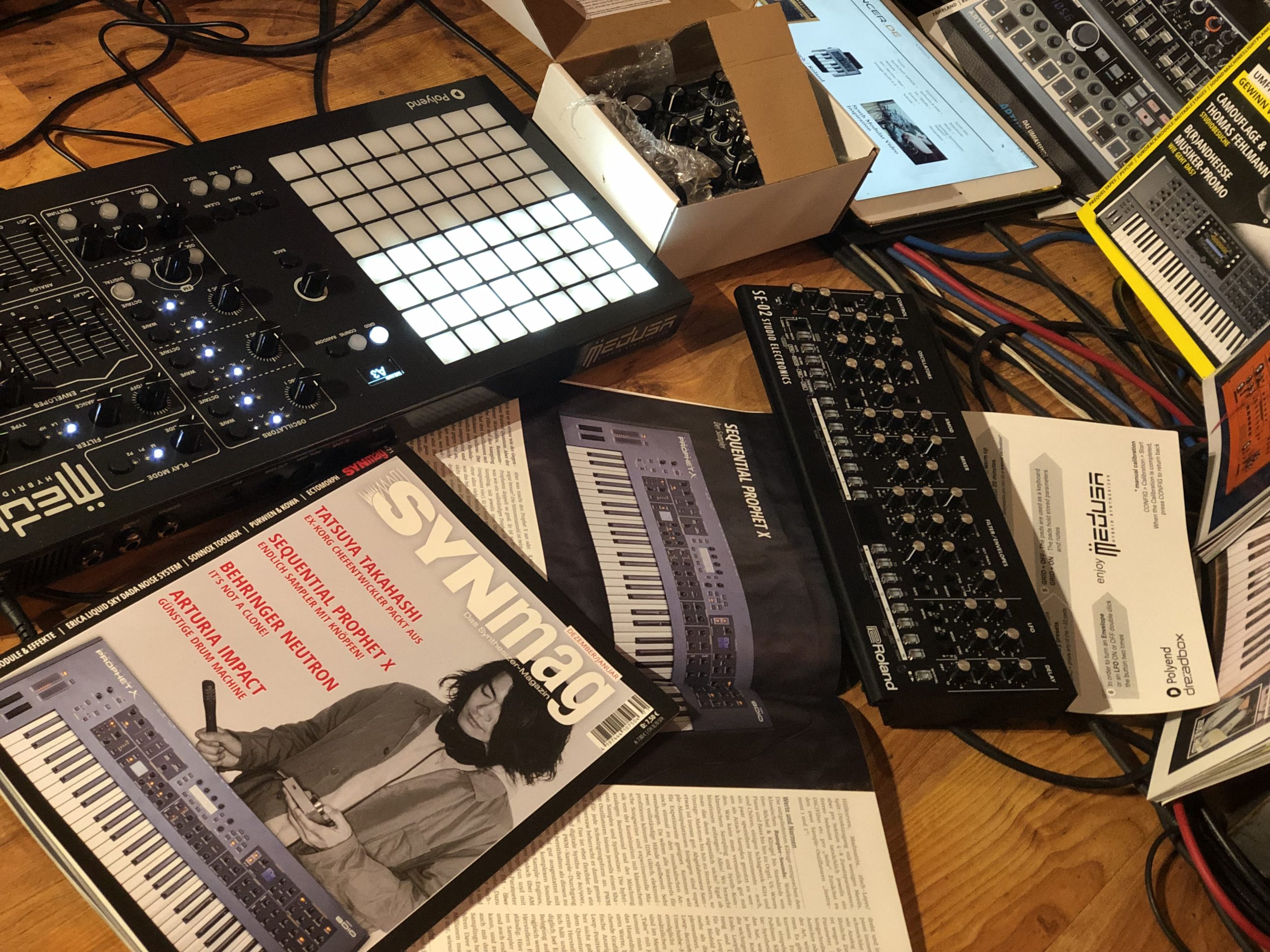 Alesis Strike Sampler und Looper 32GB, 9x Drumpad – Eigene Samples! Offizieller Name "Strike Multipad"!
Das Pad mit Farben für Zuordnung, Decay-Zeit optisch anzeigen und BPM Pulse sehen und natürlich – Loops aufnehmen und dazuspielen…
Alesis Strike MultiPad Drum Controller Demo (SEE DESCRIPTION BELOW FOR CORRECTION)
ContinuuMini ist fertig.. Haken Audios klassischer Controller in günstig und klein. Ist dadurch auch mehr wie ein Ribbon als ein Fingerboard ..
Loopop exclusive: ContinuuMini review and tutorial
Flashback zu Kraftwerk #hier mehr und Studio  in ungewohntem Umfeld und Hasenzeichen von Florian Schneider für den lustigen Moderator. #Studiofoto – seltener im Synthspotting Bereich
KRAFTWERK - Pocket Calculator [Discoring 1981 Italian Version] HD
Hallgerät der besonderen Art – Tegeler Raumzeitmaschine – Röhrenhall (!!)
klingt aber gut..
Raumzeitmaschine Röhren-Hallgerät von Tegeler Audio Manufaktur - Vorgestellt
VCV, der kostenlose Software Eurorack-Modular kann andere Plugins hosten, dadurch kann man zB ein Diva mit LFOS und ENVs erweitern und Effekte einbauen, die das System sonst nicht hätte.
VCV Host - Using iZotope Vocal Synth and Trash VSTs with VCV Rack
Percussa mSSP – kleine Version des SSP ist für 550€ auf dem Wege.. #links dorthin
das große klingt so, aber das kleine kann fast dasselbe.
8-voice wavetable synthesis + FX on the Percussa mSSP (part 1)
Sequencing and microtonal quantization + FM demo on the Percussa mSSP
Granular processing of Voice Samples on the Percussa mSSP
Live stereo input granular demo for the Percussa mSSP
percussa ssp - physical modeling membrane module demo
und das hier ist Prototyp, aber mal sehen, ob es kommt ..
Tokarev Protosynth V1LP + V2 + Microbrute + hardware MIDI player
Dann vielleicht noch eben bei Behringer reinhören? Der "Ulissey" – Behringer Odyssey Klon mit Bonusfeatures -- The Next Behringer Status (Neues, Wünsche, Kritik …) und Behringer RD 909
Behringer RD-909 (Roland TR-909 Clone) Sneak Preview
und wenn du hier mal reingucken magst.. ?
httpv://www.youtube.com/watch?v=channel/UChzhA4XxizS_bHwzbh0GkGw